Read below for information on a Wisconsin high school's "no makeup day" to celebrate the natural beauty of girls.  Thankfully, everyday in the Middle School at Sacred Heart is a "no makeup day!"  In addition, our Turn Beauty Inside Out Club is a great resource for our 7th and 8th graders to better appreciate their true beauty and understand how girls and women are portrayed in the media.
Middle and high school can be tough years for teenage girls and their developing self-confidence.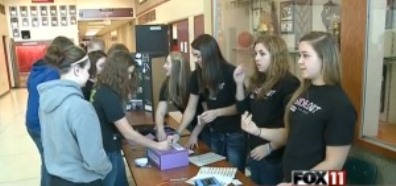 Three girls from New London High School in Wisconsin recently started a campaign to boost the spirits of their peers and get them to embrace themselves. Created by juniors Caitlin Schmidt, Cambria Fitzgerald, and Jenna Mytton the True Beauty Campaign began as an assignment for their enterprise marketing class and developed into much more.
More from Parenting: 9 unique holiday traditions
Their mission: to make all girls love their natural beauty instead of striving to chase some impossible standard of beauty. True Beauty's most recent function was "No makeup day," held at school on Nov. 15. Some 300 girls at New London pledged not to wear makeup for the entire day and 100 boys pledged to support their efforts.
It was a school-wide event, inspiring girls of all grades to let their natural beauty shine through. Girls were given stickers that said "Bare-Faced and Beautiful" and the boys were given stickers that said "I Dig Confidence." They even sold t-shirts and bracelets to raise money for future events.
These girls have figured out what it truly means to be beautiful. Now their confidence is inspiring the rest of the New London teenage community.
How do you teach your children to embrace their natural beauty?