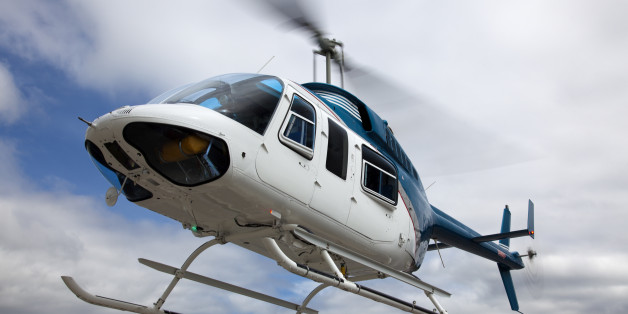 DAN BARNES VIA GETTY IMAGES
If there's one thing many parents want more than to lead happy, successful lives, it's to make sure their kids lead happy, successful lives.
Now a former dean of Stanford University freshmen, Julie Lythcott-Haims, says many parents' hearts may be in the right place—but they're screwing things up big-time nonetheless.

In her New York Times bestseller How to Raise an Adult: Break Free of the Overparenting Trap and Prepare Your Kid for Success, Lythcott-Haims says the problem is a phenomenon we've been hearing about since the 1990s—one that's now crashing hard into American society: helicopter parenting.
She summed up her experience in an interview with the Los Angeles Times:
"Working with the quote-unquote best and brightest, I was seeing more and more [students] who seemed less and less capable of doing the stuff of life. They were incredibly accomplished in the transcript and GPA sense but less with their own selves, evidenced by how frequently they communicated with a parent, texting multiple times a day, needing a parent to tell them what to do.

"I'd been scolding other people for five or six years. One night I started cutting my 10-year-old son's meat and realized I was enabling dependence on me. I could see the link between parenting and why my college students, though very accomplished academically, were rather existentially impotent."
"Existentially impotent."
Ouch! That may be the most original and cutting insult I've ever heard.
What's more, Lythcott-Haims said it applies largely to some of the most privileged kids in our society. Students from less affluent families—who statistically speaking might be more likely to join the military or work while attending community college—seemed to her to be at least as self-sufficient as their predecessors.
But the students she was dealing with as dean of freshmen students, who were attending one of the most elite universities in the world, and who were more likely to graduate and have amazing opportunities, were overwhelmed and unable to function as real adults.
No phone calls?
For example, Lythcott-Haims cited the idea that many Millennials—using her own daughters as examples—seem "paralyzed" by the idea of having to make a simple phone call, because they never had to do so while growing up.
(Her solution with her daughters was to give them tasks that could be resolved only by making phone calls—"because you need to know how to talk to a stranger on a phone and ask a question.")
So what do we do about this? Her advice for parents, she said in a speech reported by the Chicago Tribune, is to "put ourselves out of a job" by doing a few specific things:
Remember the difference between "I" and "we."
"If you say 'we' when you mean your son or your daughter—as in, 'We're on the travel soccer team'—it's a hint to yourself that you are intertwined in a way that is unhealthy."
Be your kids' advocate, not their lawyer.
"If you're arguing with teachers and principals and coaches and umpires all the time, it's a sign you're a little too invested. When we're doing all the arguing, we are not teaching our kids to advocate for themselves."
Remember that their work is their work.
Don't do their homework, she said. "Teach them the skills they'll need in real life, and give them enough leash to practice those skills on their own. … Chores build a sense of accountability."
Bottom line, let them try things—and fail.
"We want so badly to help them by shepherding them from milestone to milestone and by shielding them from failure and pain. But overhelping causes harm," Lythcott-Haimes wrote in How to Raise an Adult. "It can leave young adults without the strengths of skill, will and character that are needed to know themselves and to craft a life."